Vermont ProCourt Mini Tennis & Badminton Combi Net
Vermont ProCourt Mini Tennis & Badminton Combi Net

No Need to limit the fun to 1 racket sport with this Vermont Combi Net!
Dual Purpose
Not content with providing for just 1 sport, this combi net does 2! Ideal for mini tennis or badminton, you can keep the action going for hours with this net!
Take it anywhere
This net is remarkably lightweight making it easy to move around. Add to that the included carry bag and you really can take this net anywhere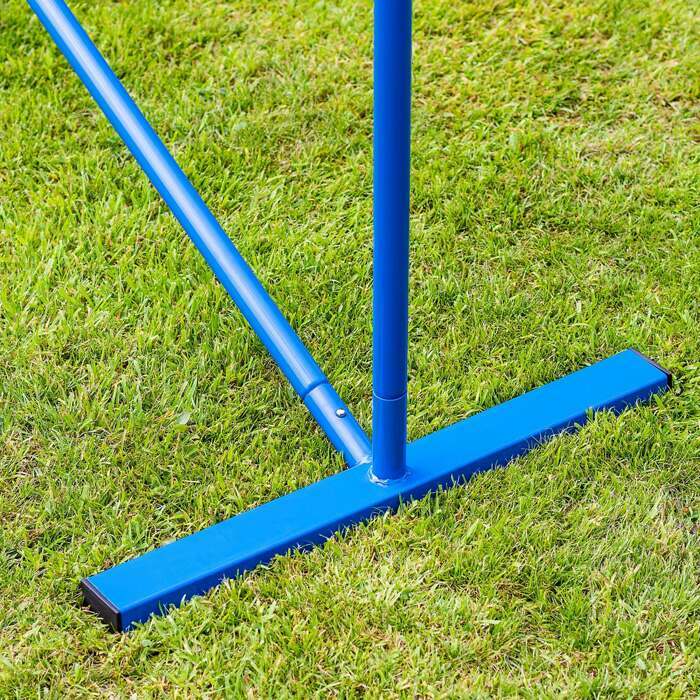 Supremely strong
The ProCourt's frame and net are unexpectedly tough. The metal-tubing frame combined with high-vis material make for a net that's going to around for years to come!
Description
Test your racket skills with this Mini Tennis & Badminton Combi Net
Mini tennis is an integral part of any tennis players young career. It's the time where you first start to discover proper tennis shots, what it's like to play proper points and more importantly how you start to win proper points with intended plays. The red/orange/green system is the perfect way for a youngster to be eased in to full size tennis, but to ensure the process is an efficient one, the quality of tennis equipment has to be right at the top of its game and this Vermont ProCourt Mini Tennis Net certainly is that.
Mini Tennis & Badminton Combination Net
Change between sports in seconds
Net systme is 100% portable (carry bag included)
Features a powder coated steel frame
6ply Polyethylene Net with 1" mesh
Available in 10ft, 20ft & 30ft widths
Durable, weatherproof structure
The sheer quality of the materials used really sets the ProCourt apart from the rest. The frame, which is made up of multiple ProCourt poles that easily slot together, has been manufactured using heavy-duty powder coated steel, giving it exceptional strength and durability. The net has been crafted from 6ply Polyethylene with a 1" mesh and 210D Oxford Material top and bottom banding, giving the net excellent protection against consistent impacts from tennis balls and shuttlecocks.
The beauty of this net is how quickly it takes to assemble. With this net you can have the tennis action underway in moments, allowing for plenty of time for those ground strokes to be developed. It can also be packed away as quickly as it was assembled and once finished, can be packed and stored away in the included carry bag. The carry bag also allows for excellent portability of this remarkably lightweight tennis net so you really can take this anywhere.
Perfect for mini tennis training or just simple family garden fun, you would think that this net had nothing more left to give, but it does. With the simple addition of a single already-included ProCourt pole either side of the tennis net, you can transform the mini tennis net, into a top-quality badminton net. So if you're a racket sports boffin and fancy changing it up from the traditional game of tennis, then this Vermont ProCourt Combi Net is the perfect addition for you.
Specifications
Package Contents:
This Combi Net Package includes: Net, Posts & Carry Bag
Material:
Net Frame: Powder-Coated Steel Poles
Net: 6ply Polyethylene with 1" mesh
Net Banding (top & bottom): Coated 210D Oxford Material
Net Banding (side): Weather-resistant PVC Tarpaulin
Sizes:
Available net lengths: 10ft (3m) / 20ft (6m) / 30ft (9m)
Net height when playing mini tennis: 2.6ft (80cm)
Net height when playing mini badminton: 5ft (155cm)
Weights
10ft ProCourt: 8kg
20ft ProCourt: 11.67kg
30ft ProCourt: 15.4kg
Don't just take our word for it
works perfectly, fair price. what more could i want?
sturdy and easy to set up. well though out product
Product was extremely good quality
Really sturdy and very impressive net. The whole family loves it and we've been using it in February in our driveway!
Want to chat?
Contact us here and we'll get back to you as soon as possible.
Buy today, play tomorrow
Order by 9pm for next day delivery
Questions & answers
Ask fellow customers what they think!
Hide Q&As
Questions & Answers
4 questions | 4 answers
What's size of the 20ft net when packed (with all poles etc included)?
Answer this question >
Hi Bernard, thank you very much for the enquiry. Please see the following dimensions:- 103cm x 22xm x 13cm & it weighs 12.5kg.
Many thanks,
Grant

Is this suitable for a 5 year ok?
Answer this question >
Hello Brian, Thank you for your question. This system is able to be used for any age range, for the age of 5 years old the best length to use is 10ft. As they are just starting out playing the 10ft length would be perfect for them. If you have any further questions please do get in touch. Many thanks, Tom
Is this net suitable for a 10 and 13 year old ?
Answer this question >
Hi Sara, Thank you for your question. This product is perfectly suited for all ages and with the ages of 10-13 years old I would recommend the 20ft size. This size would be suited up to the age of around 16 years old, so you have great value for money. Many thanks, Tom
How high is the badminton and tennis net?
Answer this question >
Hello Pete, Thank you for your question. The height when playing Tennis is 2.6ft (80cm), when you are looking to use it for Badminton the height then goes up to 5ft (155cm). If you have any further questions please contact me via sales@
networldsports.com
Many thanks, Tom
Vermont ProCourt Mini Tennis & Badminton Combi Net
Thank you!
Your answer has been submitted.
We really appreciate you taking the time to help other customers, so please check your emails for a little thank you from us.
Vermont ProCourt Mini Tennis & Badminton Combi Net
What would you like to know?
Thank you!
Your question has been submitted. You'll receive an email when an answer has been received.
Can't hang around? Contact us and we'll get back to you right away.
You may also like
Vermont Training Tennis Balls [60 Bucket]
£39.99
Vermont ProCourt Mini Badminton Net & Racket Set
£69.99
Vermont ProCourt Mini Tennis Net & Racket Set
£69.99
Vermont Tennis Net & Posts [Custom Package]
£284.99
Recently Viewed
Tennis Court Surround Net, Post & Tension Wire System
£2,799.99
Vermont Portable Volleyball Sets [Beach & Regulation]
£149.99
Vermont Mini Green Tennis Balls [Stage 1] (60 Balls)
£39.99
Volleyball Posts - Freestanding
£189.99
Badminton Net [24ft BWF Regulation]
£10.99