Rol-Dri Tennis Court Squeegee [PVC Roller]
Rol-Dri Tennis Court Squeegee [PVC Roller]

RID YOUR COURT OF PUDDLES WITH THE PVA TENNIS COURT SQUEEGEE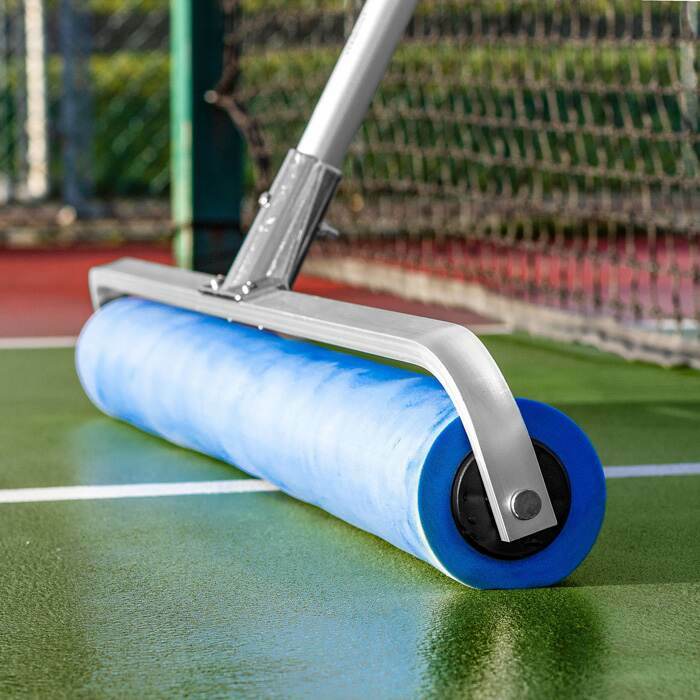 BLUE PVA ROLLER
Requiring activation prior to use (simply wet the roller), the Blue PVA material allows users to simply move large volumes of standing water with minimal effort, ensuring your court dries much quicker.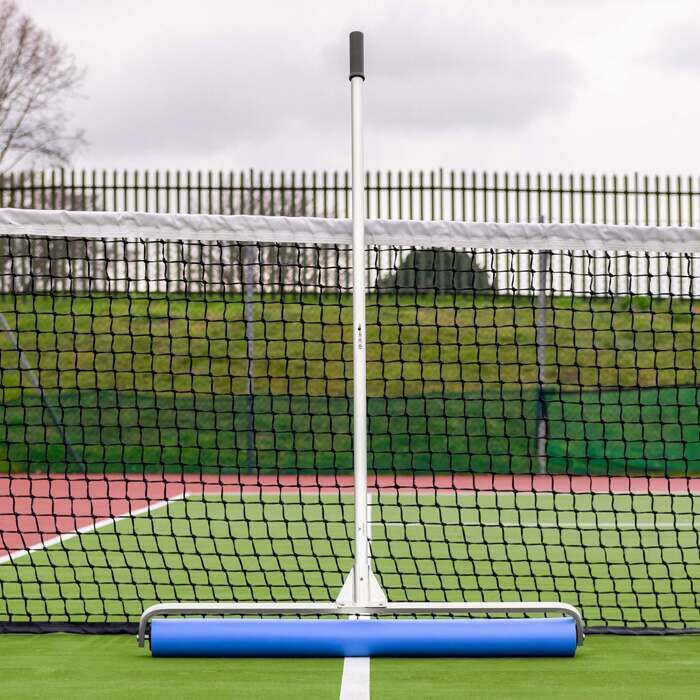 EXCELLENT DURABILITY
Created using the highest-quality materials available, this Vermont Tennis Court Squeegee guarantees exceptional durability. The aluminium handle & stainless steel frame are 100% rust-resistant.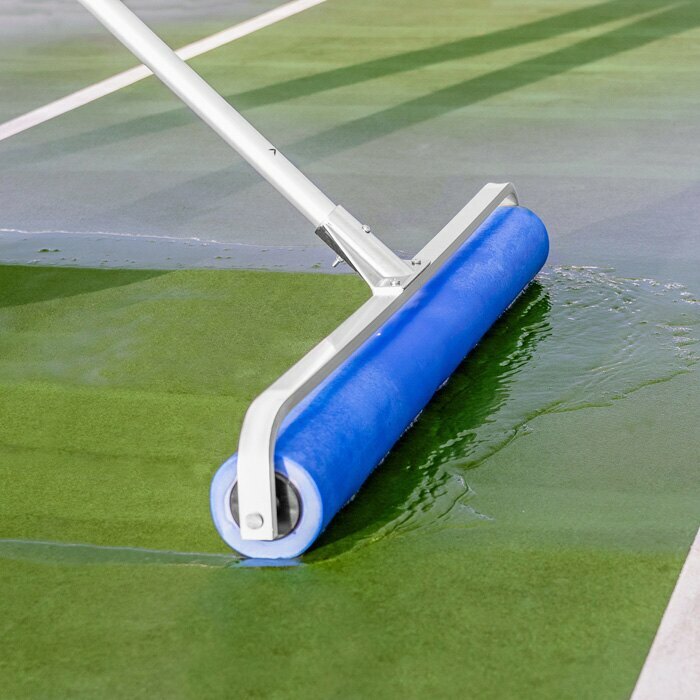 HARD, NON-POROUS COURTS
An excellent choice for hard & non-porous courts, the PVA foam roller squeegee is well-suited to absorb large volumes of water. Perfect for tennis, basketball, volleyball & futsal courts.
Description
Dry Your Courts With The Tennis Rol-Dri Tennis Court Squeegee
There's nothing more frustrating as a player or coach, having to wait for your tennis court to dry after a heavy rain shower. Well now, you can leave those frustrations firmly behind you as the Tennis Rol-Dri Court Roller Squeegee will have your tennis court water-free in just minutes! Made entirely of high-quality, durable materials, this tennis court squeegee is the perfect choice for hard and non-porous tennis courts.
36" diameter tennis court squeegee
Water-free tennis court in minutes
Stainless steel & anodised aluminium frame
Squeegee is resistant against rust & corrosion
Choice of roller material: PVA or Foam
Easy-to-use thanks to lightweight nature
Extremely durable tennis court accessory
The entire structure has been designed with longevity in mind. The handle, which has been made to ensure users are able to clear their tennis court in maximum comfort, is manufactured from anodised aluminium, which is resistant to rust and corrosion. Possessing similar characteristics to the handle in terms of strength and durability, the T-Socket and frame have been engineered from super strong stainless steel. The lightweight structure comes with a choice of 36mm diameter roller; PVA or Foam.
PLEASE NOTE: Replacement Rollers are also available.
Want to chat?
Contact us here and we'll get back to you as soon as possible.
Buy today, play tomorrow
Order by 9pm for next day delivery
Questions & answers
Ask fellow customers what they think!
Hide Q&As
Questions & Answers
No one has asked a question yet! Be the first to ask one.
Rol-Dri Tennis Court Squeegee [PVC Roller]
Thank you!
Your answer has been submitted.
We really appreciate you taking the time to help other customers, so please check your emails for a little thank you from us.
Rol-Dri Tennis Court Squeegee [PVC Roller]
What would you like to know?
Thank you!
Your question has been submitted. You'll receive an email when an answer has been received.
Can't hang around? Contact us and we'll get back to you right away.
Recently Viewed
Match Liner® Tennis Court Line Sweeper
£119.99
Spinfire Pro 2 Tennis Ball Machine + Wireless Remote
£1,949.99
Vermont Portable Volleyball Sets [Beach & Regulation]
£149.99
Vermont Voleo Tennis Balls [4 Ball Tubes]
£3.69
Folding Step Ladder
£14.99