FORZA Speed & Agility Training Ladder
FORZA Speed & Agility Training Ladder
Mix Up Your Fitness Sessions With Our Training Ladder
Highly Visible Yellow Colour
Our speed and agility training ladder is manufactured in a fluorescent yellow colour to remain highly visible during training sessions
Adjustable Rungs For Training
The plastic rungs can slide to adjust the gaps in the ladder, meaning you can tailor your exercises for different ages and abilities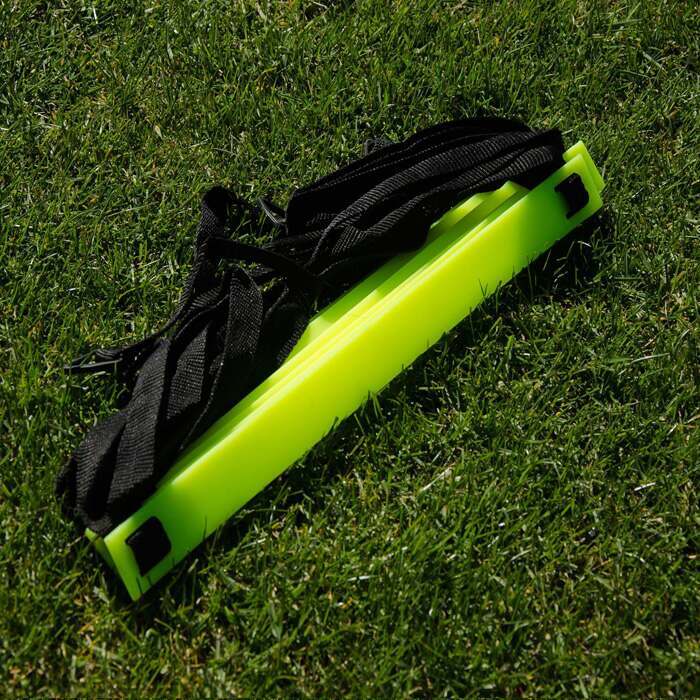 Flat Rungs For Safety
This speed and agility training ladder features flat rungs to minimise the risk of tripping over during sports training drills
Description
Increase Your Training Drills With Our Speed & Agility Ladder
Practice quick feet and get your blood pumping with our incredible Speed & Agility Training Ladder! Great for a variety of sports training including football, rugby, tennis, badminton & more.
Help to improve your stride technique, arm control, footwork and overall co-ordination with this speed and agility training ladder.
Our speed and agility training ladder is manufactured in a bright fluorescent yellow colour to remain highly visible during training sessions. So even if you're playing in low light you can still clearly see your training ladder.
This speed and agility training ladder features flat rungs to minimise the risk of tripping over during sports training drills. These plastic rungs can also slide along the nylon edging to adjust the gaps in the ladder, meaning you can tailor your exercises for different ages and skill level. Perfect for coaching school classes or sports teams.
Our agility ladder is available in two sizes: 3m which features 6 strong rungs, and 6m which has 12 rungs. If you want to create an intense workout, why not join two ladders together!
Specifications
3m Ladder Specs:
3m in length
40cm wide
6 rungs
6m Ladder Specs:
6m in length
40cm wide
12 rungs
Misc:
Plastic rungs slide to adjust the gaps in ladder
Flag rungs to minimise injury
Nylon edges
Add more speed ladders for a challenging drill
Don't just take our word for it
Ladder was wet and mud on it. Not sure if used.
Just what we were looking for and at a great price
just what i needed for coaching
Same as the other; one agility ladder was 10' and the second 20'.
Want to chat?
We're here on

live chat

right now!
Or via phone or email if you'd prefer...
Buy today, play tomorrow
Order by 9pm for next day delivery
Questions & answers
Ask fellow customers what they think!
Hide Q&As
Questions & Answers
No one has asked a question yet! Be the first to ask one.
FORZA Speed & Agility Training Ladder
Thank you!
Your answer has been submitted.
We really appreciate you taking the time to help other customers, so please check your emails for a little thank you from us.
FORZA Speed & Agility Training Ladder
What would you like to know?
Thank you!
Your question has been submitted. You'll receive an email when an answer has been received.
Can't hang around? Contact us and we'll get back to you right away.
You may also like
FORZA Resistance Speed Chute
£6.99
FORZA Speed Training Hurdles [6 Pack]
£15.99
Recently Viewed
Vermont Mini Red Tennis Balls [Stage 3]
£4.99
Team Hygiene Water Bottle (1 Litre)
£2.99